In university I was a science student but I also have a right brain that works fairly well. I played in bar bands and in my final year I was an ecology student in the morning, a geography  lab demonstrator in the afternoon and the baddest soul bass player in the Winnipeg underground by night. Since then I've played in rock bands, Celtic bands and I'm currently on the Canadian roster for the Wanted Man tribute to Johnny Cash, a touring show band. I've played coast to coast and on both sides of the border. Up top is The Ministers of Soul, a six piece R&B band playing Memphis soul back in 1984. Dave Pletz is on saxaphone and Brian Stefaniuk is playing trumpet.
Playing the freestage at the Saskatoon Fringe Festival with fellow cast members of The Real Millennium Wireless Broadcast back in 2001. The other members are my brother Graham in the middle and operatic soprano Heather Lea Brown. Heather spent 18 months in Germany playing Jellylorum in Cats and has been featured in the Stratford chorus of The Mikado.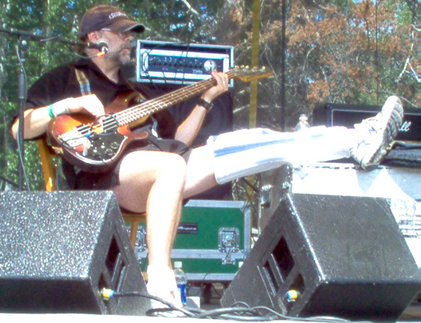 Doghouse, a five piece rock cover band where I played bass for a couple of years. We were not only featured in the Summerfest Classic Rock Festival Battle of the Bands in 2004. We won it. I was about a week out of serious knee surgery so I was transported out there on my back in a van and propped up on stage. Rock and roll will never die but it will limp periodically.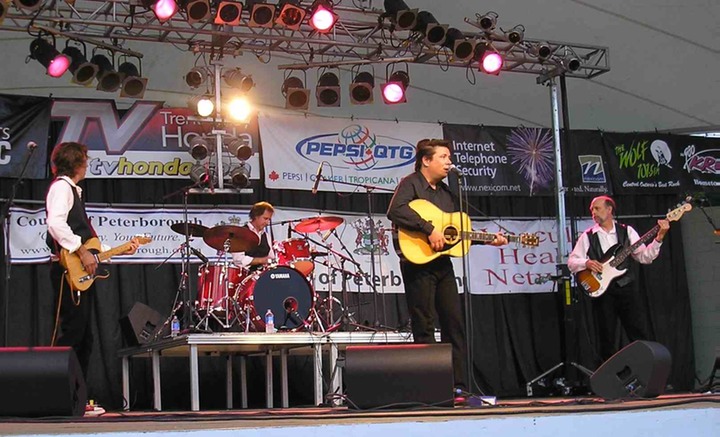 The Wanted Man Tribute To The Man In Black, fronted by former Minister of Soul Marcel Soulodre performing at the Peterborough, Ontario Festival of Lights. Marcel called me to play bass for him alongside Randy Joyce on the drums and Lloyd Peterson on lead guitar. Wanted Man has played in shows with 54-40, Tom Cochrane and Spirit of the West as well as festival stages in the company of Streetheart and the late Jeff Healey.